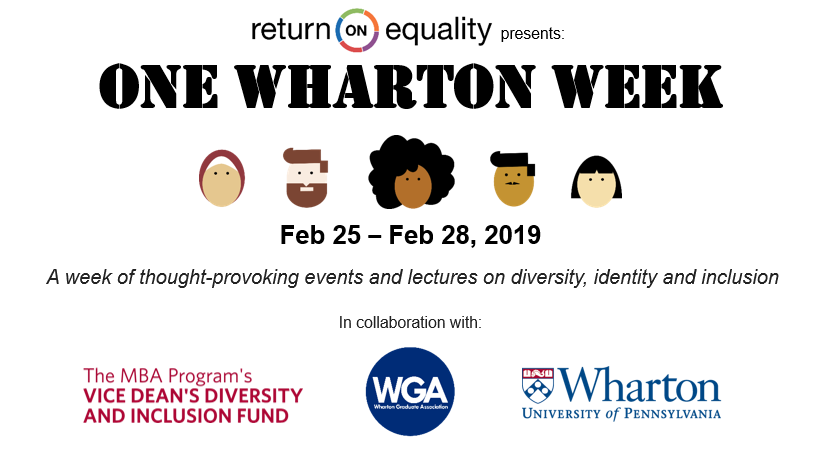 MONDAY 2/25
12:00PM (JMHH 350) DECONSTRUCTING OUR IDENTITIES
Have you ever thought about how your identity contributes to your success? Our identities are complex and messy, yet powerful. They can empower us as much as they can impede us. This session will enable us to think critically about the power in our identities. Come hear from classmates about their experiences and participate in an interactive exercise around how different elements of our identities shape our choices and life outcomes.
4:30PM FROM CONFLICT TO COLLABORATION WORKSHOP
This experiential workshop offers participants an introduction to the Common Ground Approach, a conflict transformation method developed by the international peace-building organization Search for Common Ground. Through practical exercises, we'll learn how to detect the underlying dynamics behind the visible and often violent manifestation of conflict we see in our world today. Through practice and reflection, we will learn how to reveal Common Ground and harness it to transform conflict and drive change. Be it driving forward change at a community level or catalyzing organization-wide change, the skills to turn conflict into collaboration is imperative for leaders of today and tomorrow.
4:30pm (jmhh 8th floor) tarnopol's dean's lecture: the changing face of diversity & leadership
Join us for a conversation on diversity with Geoffrey Garrett, Dean of The Wharton School, and Wendell Pritchett, Penn's 30th Provost and Presidential Professor in the Penn Law School and the Graduate School of Education.
Wendell Pritchett is an award-winning scholar, author, lawyer, professor, and civic and academic leader, he has served as Chancellor of Rutgers University-Camden, as Deputy Chief of Staff and Director of Policy in the City of Philadelphia, and in a wide range of major board and leadership positions, including member of the Philadelphia School Reform Commission, Board Chair of the Community Legal Services of Philadelphia, President of the Coalition of Urban and Metropolitan Universities, and Co-Chair of Barack Obama's Urban Policy Task Force. His scholarly work focuses on urban history – especially housing, race relations, and economic development – including two major books, Robert Clifton Weaver and the American City: The Life and Times of an Urban Reformer (University of Chicago Press 2008) and Brownsville, Brooklyn: Blacks, Jews and the Changing Face of the Ghetto (University of Chicago Press 2002.)
6:00PM (2401) screening and discussion: class divide (award-winning hbo documentary
Join Return on Equality for a discussion on Class in American and at Wharton. We will be viewing segments from Marc Levin's award-winning HBO documentary Class Divide, which provides a lens into gentrification in West Chelsea. Levin interviews people from both a public housing project and a prestigious private school which co-exist on the same street, revealing a similar consciousness about what such disparity entails. Following the film, we will have an open discussion about what class means in America and how it affects our experiences at Wharton. The film screening starts at 6:20 PM in 2401 and dinner will be provided for all attendees! We hope you can join us!
tuesday 2/26
12:00pm (JMHH 350) Immigration, Innovation and Entrepreneurship
Please join Professor Exequiel Hernandez as he provides an economic approach to analyze immigration's effect on labor, innovation, entrepreneurship, and capital investment in the United States. We will compare these effects to other countries' immigration effects' around the world. As a community, we will explore how this fact-based approach blends into important moral questions on immigration.
4:30pm (JMHH 250) Know your Rights and Obligations: Discrimination, Misconduct and Allegations in the Workplace
In the era of #MeToo, join us for an educational event and dialogue with Joyce Collier and Lissa Goldenstein on discrimination, misconduct and allegations in the workplace related to gender and beyond. We'll discuss tactical strategies - legal, management, and otherwise - for approaching these issues from all angles (e.g. the accused, the accuser and the "bystander").
Joyce Collier is an attorney and partner in her firm's Employment Law, Civil Rights and Complex Litigation practice groups. Ms. Collier has thirty years of experience as a trial lawyer in state and federal court in Pennsylvania and New Jersey. Along with Gloria Allred, Ms. Collier represented some of the women who were harassed by Bill Cosby. In 2018, Ms. Collier also successfully litigated a matter involving a Filipino worker who suffered harassment and abuse inside a battery manufacturing plant. She also represented the head of human resources of a large university who was terminated after eighteen years of loyal service, a cancer survivor who was the only employee terminated during a purported layoff, and a woman who was fired in violation of the FMLA while she was in treatment for alcoholism.
Lissa Goldenstein is an accomplished entrepreneur and business executive with more than 25 years of commercial experience. Over the past 14 years, Lissa has served as President and CEO of ARC Fertility, Inc., Co-Founder, President and CEO of Auxogyn Inc. (now Progyny, Inc.), and President and CEO of Artemis Health Inc. (now Verninata Health, Inc.) She was recently named Chair-Elect of the Board of Directors of RESOLVE: The National Infertility Association.
6:00pm (JMHH G65) Personality Differences in the Workplace: Setting Introverts Up for Success
Business (and Wharton) can feel like an extrovert-dominated world. Come learn from Doug Conant on how introverts can find their personal leadership brand, and how extroverts can better work on teams with personality differences.
Douglas R. Conant is an internationally renowned business leader, New York Times bestselling author, keynote speaker, and social media influencer with over 40 years of leadership experience at world-class global companies. For the past 20 years of his leadership journey, he has honed his leadership craft at the most senior levels – first as President of the Nabisco Foods Company, then as CEO of Campbell Soup Company, and finally as Chairman of Avon Products. In 2011, he founded ConantLeadership: a mission-driven community of leaders and learners who are championing leadership that works in the 21st century.
wednesday 2/27
12:00PM (JMHH 350) political discourse across the aisle: what is american conservatism and american liberalism
Many of us have different political views. Because of that, it can be difficult to talk openly and honestly about politics at school, work or with friends. Join us for this event, where Dr. Ron Granieri will discuss this dilemma as well as ways to promote political diversity.
Ron currently teaches at the Lauder Institute at the University of Pennsylvania. He is also an Foreign Policy Research Institute (FPRI) Templeton Fellow, the Executive Director of FPRI's Center for the Study of America and the West, Editor of the Center's E-publication The American Review of Books, Blogs, and Bull, and Host of Geopolitics with Granieri, a monthly series of events for FPRI Members. He is a specialist in Contemporary German and International History with degrees from both Harvard and the University of Chicago. He is the recipient of a Federal Chancellor Scholarship from the Alexander von Humboldt Foundation and is a member in the American Council on Germany's Young Leader Program. He is the author of The Ambivalent Alliance: Konrad Adenauer, the CDU/CSU, and the West, 1949-1966
4:30PM (JMHH 245) Mentorship in the World of #MeToo
Join ROE, PE/VC Club, and the 22s for an event on cross-boundary sponsorship. Professor Cade Massey (who teaches the top-rated course on Influence) will facilitate discussions. We will dicuss what effective sponsor/mentorships look like and the tensions that might be arise between men-women pairings in the post-#MeToo environment. We are asking for stories, anonymous and otherwise, from men and women on the topic, to be used for small group discussions during the event.
6:00PM (2401) allypalooza
Return on Equality, the 22s, Wharton Women in Business, and Out 4 Biz are hosting Allypalooza on Wednesday, February 27th at 6 PM as a part of One Wharton Week. The theme is ""Allyship in Unexpected Places"". The event will feature a discussion on allyship in all its many forms along with free food and club member t-shirt distribution.
thursday 2/28
12:00PM (JMHH 350) I'm Not [ ] Enough: The many layers of belonging and diversity
How does a multi-generational Indian-American who grew up in the US feel about their affiliation with India Club? Does a 1st-generation Mexican immigrant to the US belong to WHALASA or WHAMBA? Hear from a panel of students on their experiences fitting in at Wharton and their respective clubs.
4:30PM (JMHH g55) Black in America (AAMBAA event for Black History Month)
To celebrate the end of Black History Month, please join Return on Equality and AAMBAA for a discussion on diversity, inclusion and belonging in America today. This event will feature Professor Stephanie Creary and special guest Dr. Kevin Ahmaad Jenkins.